19. Mom was sent to recover in a convalescent hospital, but to no avail. He would come and share every meal with her, dutifully finishing off all the food which she, with her diminishing appetite, would be less and less inclined eat. Ironically wiping away, bite by bite, any evidence of said diminishing appetite. When we finally brought her back home, he was completely devoted to her everyday care, even when the daily medical details seemed at or just past the edge of his capacity to manage. He would have gone on like this indefinitely. As it turns out, she was home for less than a month before she died.
18.  Following her death, I delayed returning to Minnesota, where I had been in grad school, and stayed a month to grieve together and help him get his sea legs without her. We went to the Folsom Street Fair (the city's leather community gathering) and La Boehme at the San Francisco Opera. Hard-pressed to say which he enjoyed more.
17.  That Thanksgiving, we converged in Boston, where we dined with his oldest niece. We also went out to Chinese food in Cambridge with my old friend Sybil and her new beau, a sweet young computer geek who would one day, a little over ten years later, help my partner and me become parents.
16.  At my urging, Dad brought paper bags to Boston full of all the unopened envelopes he could find around the house: all the mail that had come in since Mom had died and first my sister, then I had left him on his own. Bills due, bills past due, bills nearing or in collections. The mortgage on his home, which they'd been buying for 29 years and 10 months, perilously close to defaulted. We did what we could to triage the situation and establish practices he could  follow to identify and manage his bills when they came in. To no avail. My sister, on her next visit to him, went through this whole process again, after which she threw up her hands and swapped over everything she possibly could to direct deposit.
15. Free now finally to travel wherever, whenever, Dad went often to Europe to encamp with my older sister in Norway, using her place as base camp for various excursions.  On one of them, he made the acquaintance of a younger chap while in Turkey; on another, he made a jaunt to Morocco. (Or did he jaunt with the young Turk?) At any rate, he managed not to give away his retirement fund, which it had seemed may have been a possibility. Also, he brought my sister and me back some nice etched brass plates.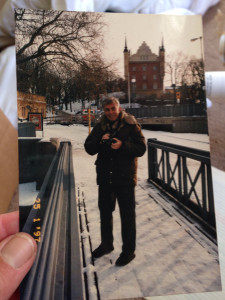 14. He fulfilled a lifelong dream to return to China, which he did with my sister, whose tales from the trip indicated it was a mission of mercy on her part as much as an adventure. He also traveled to Cuba, another lifelong dream, from which he brought me back a few t-shirts. One with a map of Cuba on it, another with Ché Guevara's face painted in gold on a black field, which a friend dubbed "Disco Ché." Whenever anyone inquired where I got them I would always say, "My dad went to Cuba and all I got was this lousy t-shirt."  I still have each of them, and have been wearing them under stuff all through these last weeks of his, even though they are very much the worse for the wear of the years.
13. Dad's first extensive encounter with my in-laws was during a trip he made to me for Thanksgiving the first year I was with my beloved.  He was a big hit with her entire family, and remained a hugely popular guest at their various tables for nigh on twenty years, all the way up through this past Christmas. They got a glimpse of what a very different drum he marches to when we all sat down to poker that first Thanksgiving, a time-worn holiday ritual of my in-laws. Dad and I sat next to each other and had a grand old time, betting with reckless impunity and folding, flat busted, fairly early on into the game, happy as clams. Neither of us had a command of the finer points of poker strategy, nor did we possess much of a motivation to win (or a clue as to how much our erratic betting might bork the game). But we surely had a good time losing side-by-side.
12. Not more than a year or so after we began dating, my beloved and I took a cross-country trip from Minneapolis to the Bay Area. Dad accompanied us on the trip back to the Twin Cities, and for my beloved it was baptism by geographer.  Despite her needing to return in time to report to work, Dad kept insisting on unscheduled stops to take in this or that geomorphological wonder.  After just a day and a half we were woefully off schedule. We thought we would redirect his attention when, at a park information building in Idaho, we bought him a guide to Montana. Bad idea. He now discovered yet more places we needed to stop. Our Waterloo was a detour he absolutely had to make to see what was reputed to be one of the world's deepest copper mines in Butte. Or maybe it was Bozeman.  When we finally arrived in Minneapolis a few days later, with my beloved not having choked him from the backseat, I knew I had found the mother of my children.
11. We held a commitment ceremony a few years later, and he attended the entire thing, proud as a peacock. (For contrast pls see thing #25.)
10. He elected to move into a retirement community at the spry age of 80, and was an instant hit. He led field trips, performed in staged readings, participated in reading groups, and was surrounded by peers who, like him, remembered WWII and phones attached to the wall, with numbers that began in a word and ended with a few digits.
9.  He knew all about my sharing stories about him in this blog, and wholeheartedly approved. I would tell him about how important it felt to me, to paint a portrait of a parent who evolved from patronizing tolerance to full-hearted love and understanding. I read or relayed to him many of your comments, particularly those expressing gratitude for his large heart. While he couldn't personally understand any parent denying or disowning their child, he was very proud to see his parental love telegraphed outward in this space.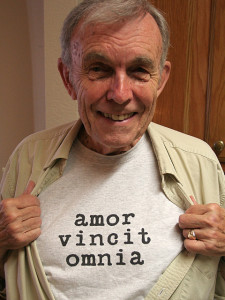 8.  Death did not sneak up  and catch him unawares. For some time he participated in a reading group exploring death and near-death experiences.  He did not look kindly on his body's slow diminishment, he bitterly resented the moment he stopped driving, and he over-proudly spurned help when his capacity to navigate stairs or other hazards dimmed. But he could not deny, after his nine-year-old grandson's unsuccessful cancer battle, the phenomenal privilege it was to live long enough to be able to complain of infirmity.
7. He never encountered a person who, after they met him, didn't think he was one of the most charming people they knew. This went double for heterosexual women of every age bracket.  At his retirement home, he sat with his "breakfast harem" each morning (a moniker coined by one of the harem ladies). He received a 90th birthday card from another of the female residents describing him as a "hunk."
6.  As if to underscore the luck he has enjoyed throughout his life, on the morning of his 92nd birthday, he managed to have a stroke when he was standing in front of my sister, and fell into her arms. And thus did his body sound the opening notes of the last, bittersweet movement in a very long, very majestic symphony.
5. After this, the "T.I.C." stroke,  his words and his thoughts were utterly disconnected for a day or two ("salad speech" is even the medical term for it). When he was still adrift, the thing he said more often than anything else – by which I mean, over and over again in the hospital ER – was the word, "Yes." Thereafter, "Wow."
4. During this post-stroke "salad speech," I was, as anyone would, simply agreeing with everything he said. As he was coming out of it, he was asking me a question, and my affable "Yep!" wasn't doing it for him. Neither were my BS'ed attempts at a more extensive answer. Finally I broke down and said, "Pops, I gotta tell you, the truth is, I have absolutely no idea what you're saying." He paused for just a moment, and replied, "Doll, neither do I!"
3. After he came back to his senses, he left each hospital stay (there were several this past year) having charmed all the nursing staff, no different than his experience over the previous dozen years at his retirement community, where he knew the names and biographies of every last staffer he encountered. Even in the past few months, when a rotating crew of attendants helped see to it that he didn't topple and did eat and socialize. No one who came into his room to care for him didn't develop a deep affection for him.
2. With the pointed exception of the death of his first grandson, which shook him mightily and to the core, he has remained, for each of his nine decades here, a fundamentally optimistic person. He found a way to make people laugh around him all the way up until the last day his eyes were open, even when he could no longer marshal words from his disobedient, stroke-devastated tongue. A last gift of mirth, hours before he finally turned all his attention to the monumental task of lifting  his own soul up out of his body.
1. In conversations increasingly more focussed in this past decade, he corroborated explicitly what has long seemed to be true: that love has been the governing power in his life. I dearly hope it is his most enduring legacy. I'll be doing my part to make it so.