79. He went to college at San José State University, a hair-raising buggy drive and a steady train ride over the hills from Santa Cruz. I'm not sure he applied anywhere else. From his stories, I get the idea he didn't totally apply himself there. Though I believe he did enjoy himself.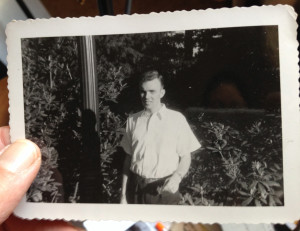 78. He was an English major. Like father like daughter.
77. My memory is that he claimed to have dated Joan Fontaine, though it's possible that he merely claimed to have known her. She lived just over the hill from Santa Cruz in Saratoga and graduated from Los Gatos High School about three years before he graduated high school. But she was doing theater in San José when he was in college in that same town, also interested in theater, so it's not utterly implausible. Another possibility is that he saw her once in person and attempted to say "Hi" to her.
76.  Either way, it's worth noting that my mother bore a very strong resemblance to Olivia de Havilland, Joan's older sister. Let the record show.
75. He graduated college in 1943. In 1942 he had joined the US Navy Reserve Officer Training Corps, and enlisted for active duty immediately upon (early) graduation, completing his "90-day Wonder" officer training at Columbia University.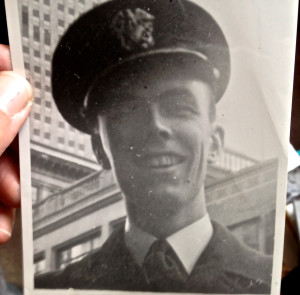 74. His boat was an amphibious landing craft, an LST (landing ship, tank). His first "shakedown cruise" was to Panama City, FL, New York, and Boston. Ultimately he was stationed overseas in the English Channel and French Ports. He made 44 Channel crossings before V-E Day.
73. The only injury he reports having sustained was a minor head injury, which he incurred on the LST on which he served as Lieutenant, JG.  A drill was called, and in the rush, he banged his forehead on a low-hanging pipe. A wee line of blood trickled down his forehead from underneath his helmet. He would chuckle as he relayed the passion with which his crewmembers saluted him, bravely carrying on in spite of this injury. But frankly the story tells me as much about his humility and his insistence on not being falsely painted as a hero as anything else.
72. He was off the coast of Ireland, in a convoy headed from the Eastern seaboard toward the English Channel and what would ultimately be the D-Day Normandy Invasion and a Omaha Beach landing (of careful note by him, long after initial landfall).  The night watchman he was with was spooked by the cloudless night and the bright moonlight, worrying that German U-boats would be able to more easily spot and target them; Dad pooh-poo'ed him. Then,  he watched as a torpedo tore through the water and cut under his shallow-hulled ship, hitting a nearby supply ship. The explosion lit up the night sky.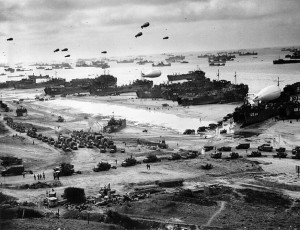 71. The wartime anthem "I'll Be Seeing You," always moved him.
70.  Upon return from the war, G.I. Bill money in hand, he had planned to travel Chile (why? why not!). Cliff Kroeber, with whom he had served in the Navy  – and son of the famed anthropologist Alfred Kroeber – told him he should visit Berkeley and talk to folks in the Geography department, who would tell him everything he needed to know about Chile.
69.  Dad made it to Berkeley's Geography department all right, but never made it to Chile. Carl Sauer, legendary cultural geographer, recruited him to the department, and in one fell swoop, his travel plans were swapped for a brand-new career path as a geographer. He spent his G.I. Bill money on the Ph.D. instead, and forever framed his career as a professor as an act of serendipity, in spite of his obvious love of it.
68.  My mother was a Ph.D. student in the department when he arrived, one of a  handful women Ph.D. students anywhere in the sciences (social and otherwise) on campus. She was working in the office when he first arrived. Not sure whether Dad thought she was a staffer or a student. Or whether he noticed her. But I get the idea she noticed him for sure.
67. Stories of their friends and professors and exploits as graduate students in Geography at Berkeley reveal what a powerful impact that time and milieu had on them. Many experiences contributed to who they were, but this time loomed large.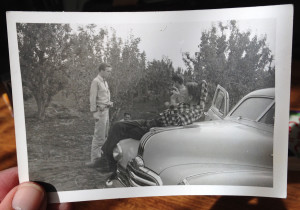 66.  After coursework (but before completing his dissertation), he worked for the US Corps of Engineers – along with my mother – first in San Francisco and then in Portland. He also performed in community theater there.
65. I always say my parents courted in Portland, because I like the rhyme. In truth, I have no idea what the heck was happening between them at the time. It did seem like a long courtship, and it may as well have flowered in Portland as anywhere else. For this reason I have a soft spot in my heart for the town.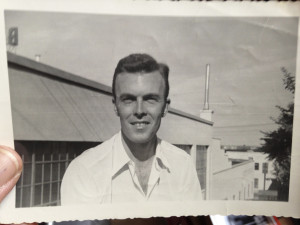 64. In the late 1950s my dad worked, again, along with my mother, at the Central Sierra Snow Lab at Norden in the Sierra Nevadas.  (For those of you non-Californians: Sierra snowmelt provides  a ton of the water that hydrates the big coastal cities. So snow depth and its runoff rates are things we pay close attention to.)
63.  They described a big snow year, in which over 20 feet of snow fell. Someone on the Snow Lab staff had driven a beloved Model T Ford up to Norden, and hadn't taken it into shelter before the early storm came. The snowpack was so high that the car remained covered in snow for the entire winter. The spring thaw finally came, at which point they saw that the weight of the snow on the car was so immense that it pressed the metal of the hood down on the engine below, like a blanket.
62.  Several of his closest grad school chums, years after they got their degrees and parted ways, came out as gay men. One lived his life out, another, more or less closeted. Both geography professors, like my dad. My beloved and I had brunch with Dad and the semi-closeted chap once. The most notable trait he possessed, other than a sharp wit and a fondness for champagne morning, noon, and night, was his bitterness. I thought to myself: if this is the closest thing I have to what might have been my other parent, had Dad taken the road less travelled by, I'm glad dad opted for my mom. Not a fair comparison, I'll grant. A life in the closet can make you a bitter, sodden man. But also I love my mom tremendously, so I'm biased.
61. He taught my mom to drive at Aquatic Park in Berkeley. He had her hone her backing skills by driving in reverse. Around the entirety of the park. I don't recall reports of her veering into the drink, so it seemed to have been an effective technique.
60.  They were friends for a decade before he had an epiphany. He read a novel in which the main character realizes, when it was too late, that the love of his life was his best friend, whom he had been overlooking for years and years.  There was my mom, beautiful and funny and smart and loving him and, because she was fat, invisible right under his very nose.