59.  Dad snapped the book shut, immediately went over to my mom's apartment (about a 15 minute stroll from where I live now), and asked her to marry him. It was the middle of the night and she thought he was drunk and sent him away. When he returned undiminished in his zeal the next morning, she realized he was for real, heaved a sigh of relief,  and said yes. They eloped to Reno post haste.
58.  My recollection was that they brought along a pair of friends to act as witness, and that the justice of the peace had a thick Scottish accent. My recollection is also that Mom was particularly pleased that one of the friends let out a discreet sniffle at one point in the ceremony, as if on cue.
57.  About a year later my sister was born, and a little less than two years after that, me.  It being the early 1960s, Dad paced in the waiting room. For one of us (can't recall which), he reports that he told the doctor there must have been some mistake, because he was going to be having a son.
56.  He was teaching at University of California, Davis at the time, but as soon as he hipped to the "publish or perish" imperative at the core of the University of California professoriate, he skedaddled to gentler pastures in the California State University system, then just freshly established.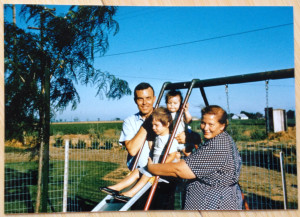 55. He began teaching at Cal State Hayward in 1964, just a few years after it opened.  Roads and parking lots and buildings were still being built, trees were still being planted and grassy lawns were still being laid.
54. It took until 1969 before he finally filed his doctoral dissertation, entitled Water use in the Yuba and Bear River Basins, California. It is a page-turner (no, really!) about the impact of hydraulic gold mining in the foothills of the Sierras.
53. My mother – who passed her Ph.D. orals a month before giving birth to my sister and gave up pursuing the rest of the degree slowly over the course of my sister's and my childhoods – drew many of the maps and typed a ton of the dissertation. What's more, she also helped him draw up syllabi for his classes, and grade student papers. T.A.'s were in short supply in the department, and enrollment numbers were high. When it came time for Dad to make the case for being promoted from Assistant to Associate and finally to full Professor, she pulled together the paperwork and drafted the arguments. I can't really imagine he would have finished his degree or been nearly the effective teacher he was if it weren't for her.
52. But he loved teaching, and his students loved him. Many professors eschewed lower division and intro classes, but he actually preferred them, and relished recruiting students into the field. He also directed numerous Master's theses, and a number of his grad students carried on their connection with him long after receiving the degree and moving away.
51.  When my sister and I were old enough, he conscripted us to help grade multiple-choice quizzes and exams. We were each given a red pen, an answer key, a stack of papers, and sufficient space to spread out on the living room rug. For myself I can say that I felt very important. I believe he double-checked my work. Don't quote me on this.
50. End-of-the-quarter department parties were regular occurrences at our home. A highlight, other than ample liquor, was the old geographer's favorite party game "guess that land formation/ locale." People would bring slides from their far-flung travels, which would be plunked in the slide projector (manually, one by one, in the olden days; later in the fancy carousel jobbie, after that newfangled technological innovation came on the slide projector scene).
49. The images would be projected up on a screen, and everyone would stand around, drink in hand, calling out their answer. "It's an escarpment, but where?" "It's the Dorrigo Plateau, in Australia!" "Not it's not! Those are the Mantiqueira Mountains in Brazil! How can you not see from the vegetation?!" And so on. In the one and only geography class I took in college (from an old colleague of Dad's), I caught up on all my sleep during the slide shows. Pavlovian.
48. My sister and I walked around and served appetizers to the guests. This also made me feel very important and grown-up. –Ish.
47. He took his sabbatical year as a guest professor at Louisiana State University, Baton Rouge. As I recall, our mother was less than excited about uprooting for the year, but (again as I recall) he relished the adventure of it. We drove our laden-down two-door Volvo across the country, stopping at every Stuckey's we ran across. Life in Louisiana in 1970 was very, very different than life in suburban Northern California in 1970.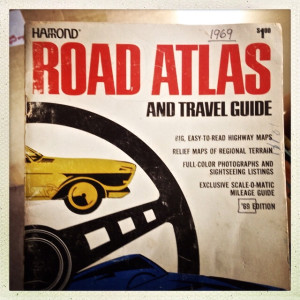 46. He would take ferry crossings across the Mississippi wherever he could possibly take one, just for the thrill of it, even if the crossing represented a significant detour. Once, he wanted to just leave the car on the boat in the exact same spot, ready to go back across the river in the other direction. The ferry driver told my dad, "You cain't do that," in his Louisiana accent. My dad replied, without thinking, "I cain't?"  I'm not sure whether the inadvertently mimicked accent incensed the ferry driver, or whether it just cracked him (and us?) up. But it became oft-repeated family lore.
45. This developed into a habit of mimicking the accent of restaurant wait staff as soon as he reckoned they were out of hearing range, a particularly acute problem for we, his daughters, who had both a respect for other people's dignity and a low threshold for public embarrassment. You never know when someone will wheel around unexpectedly with a follow-up regarding beverages, or a report that today's special is no longer available. Trips through southern states and meals out at our local Chinese restaurant proved particularly excruciating. I have no recollection that our animated shin-kicking under the table had any positive impact whatsoever.
44.  He taught my sister and me how to drive very early on. By early on, I mean I was on his lap behind the wheel steering as early as seven. (My earliest driving memory was along the Mississippi levees.) Our mother wasn't comfortable with this, but seemed to pretend to look the other way.
43.  Sunday mornings he would tell our mother that he was "taking the girls out for a drive," which was partially true. We would go to Winchell's donut house, get hot chocolate and donuts (mine was always the kind with the pink cherry frosting), and go out to Bollinger Canyon Road, a miles-long, dead-end road out in the completely rural and sparsely populated countryside east of our exurban subdivision. Before we got to the end of the road, we had to perform various driving feats, such as downshifting on a curve, or starting from a dead stop on a hill. We'd sit on his lap and steer and move the stick shift (a '69 Volvo two-door), and then eventually work the pedals, when our legs got long enough to touch them. Eventually, the big graduation was when we each were big enough to get behind the wheel ourselves. By the time we were 15 and able to legally drive with a learner's permit, we were experienced drivers, a mixed blessing indeed, given the quantity of prefrontal lobe a 15-year-old is in possession of.
42. Generally speaking, his idea of heaven on a stick was a Sunday drive with us (my sister, my mom, and me) to "reconnoiter" an upcoming field trip for his field classes.  As I recall, we obliged, but I'm not sure whether (a) my memory is accurate, (b) we had a choice in the matter, or (c) we enjoyed it.  Regardless, what I now possess is a memory of the California rural countryside as-yet not carpet-bombed by subdivisions.
41. Whenever we were travelling around the Bay Area or California or parts further flung, there was an unspoken understanding that the car would be pulled up to a stop for the occasion of looking at and taking a slide photograph of any notable feature in the landscape. When my sister and I were along, he would nearly always pose us in the foreground, for reasons I now don't totally understand. To indicate scale? Because he loved us and wanted to share us with his students? But my sister and I, the older we got, came to call these "butt shots," because we so often were posed gazing at the escarpment, or the landslide, or the Precambrian outcropping, our backs – and butts – to the camera.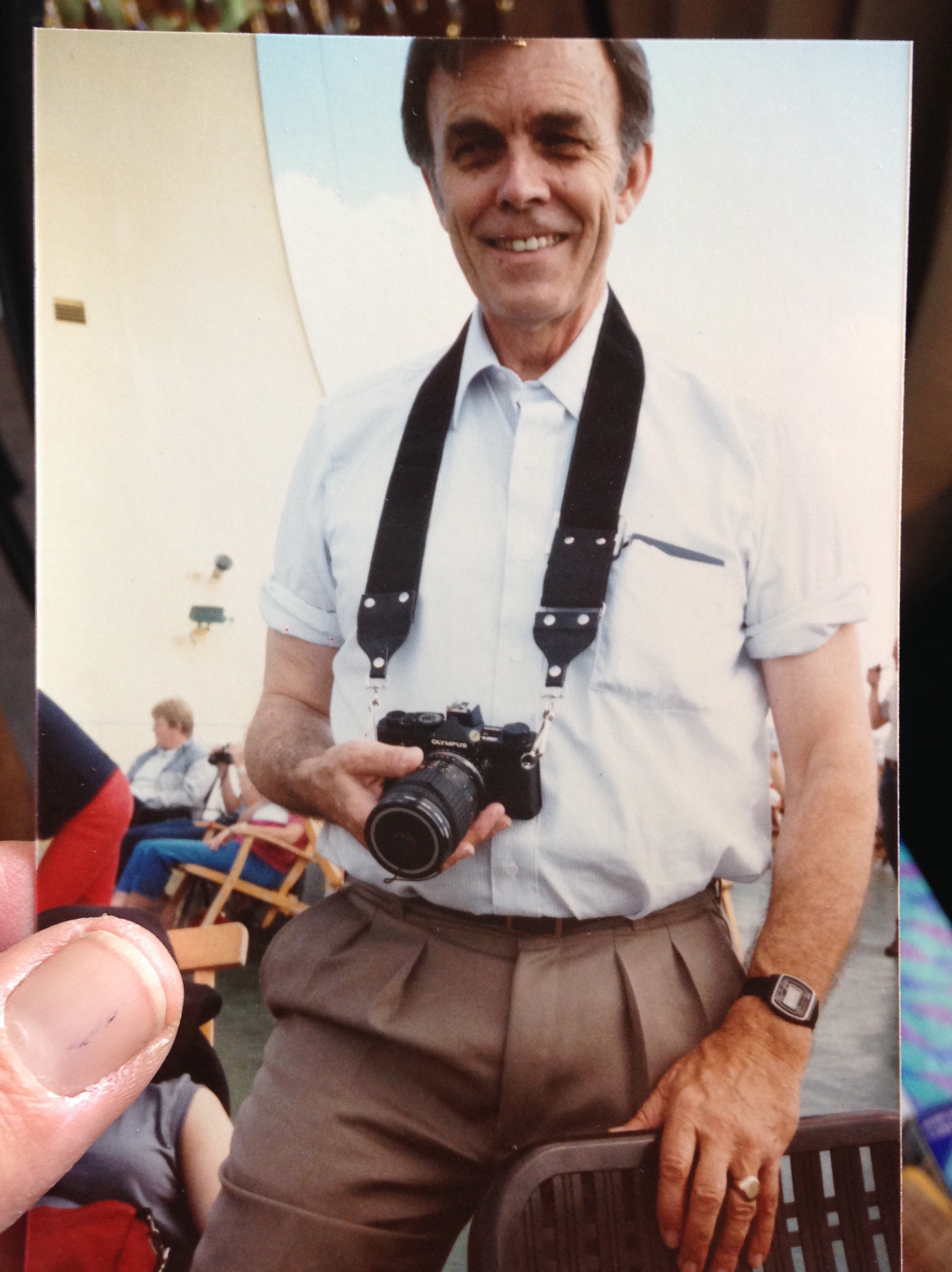 40. In order to drive home a point he was making to my sister and me about the importance of not being "squeamish," he once grabbed a handful of dry cat food and popped it in his mouth. Munched it down like Cheetos. My sister remembers him doing this with weevils in cereal, but I've blocked that out of my memory.