Archive | Seraphim/dakini
RSS feed for this section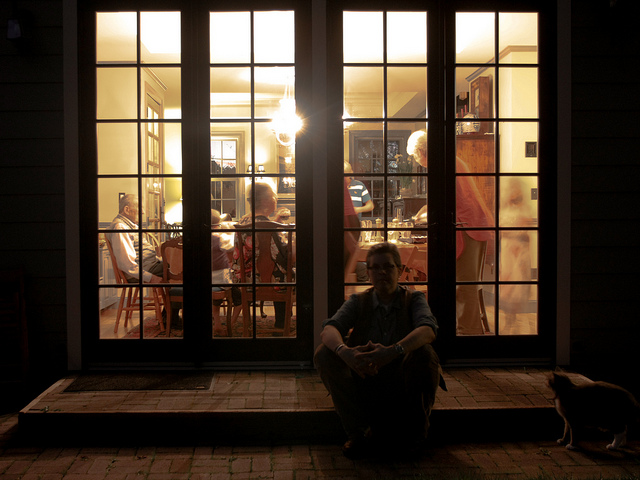 Last Thanksgiving with Dad, 2012, Berkeley, CA.
Twenty years ago last month, I was in the daze of my first weeks without my mother. I had been attending San Francisco Lesbian Avenger meetings during the summer, and then dropped off during the weeks before and after her early September death.
Finally I called fellow Avenger Masha Gessen.  I had to acknowledge what had become evident: that I wasn't going to be able to come through with whatever commitment I had made at the last meeting I attended – back when I knew my mother was mysteriously ailing, but didn't know it was a terminal metastasis of her breast cancer, in its final stages.
I told Masha what had just happened ­– that my mother had died a week or two back, and that all I could do was struggle each day to remember how to breathe and sip and swallow and walk.  Masha said: "Come over. My mother died less than a year ago. Breast cancer. Come over right now." I was staying at my parents' place in the East Bay, and Masha was in San Francisco.  It was late in the evening already, but something in her tone told me I needed to go.  I was spinning in an abyss, and her voice was the first thing I had encountered that sounded like it might arrest the spinning, maybe even establish a marker by which I could begin to navigate deep space.
Archives 2005 – present
Posts by category
Instagram
Workplace Facebook
One of the reasons I don't blog very often is that I'm at work generating a lot of this stuff. I'm not complaining.
The craven inhumanity of what's happening to asylum-seekers under the authority of US Customs and Border Patrol must pierce through the American consciousness with news of this seven-year-old girl's infinitely preventable death in custody. When those in power lose the capacity to recognize humanity in others, even the most vulnerable – a child! a second grade child! – we who do must and will hold them to account. Let us each do what we can to ensure this girl's life was not taken in vain. ... See MoreSee Less
This tragedy represents the worst possible outcome when people, including children, are held in inhumane conditions. Lack of accountability, and a culture of cruelty within CBP have exacerbated policies that lead to migrant deaths.

When the Trump administration pushes for the militarization of the border, including more border wall construction, they are driving people fleeing violence into the deadliest desert regions. The fact that it took a week for this to come to light shows the need for transparency for CBP. We call for a rigorous investigation into how this tragedy happened and serious reforms to prevent future deaths.
"To our students who are transgender: We hear you. We see you. We support you. We will protect you.

At an age when self-identity is still being formed, telling a student that their identity is invalid because it does not pair with two specific chromosomes can be deeply damaging," the letter states. "When coming to school feels uncomfortable or even unsafe, students are implicitly prevented from receiving the same education as their gender-conforming peers. Such policies can thus create lifelong emotional, psychological, and economic harm." ... See MoreSee Less