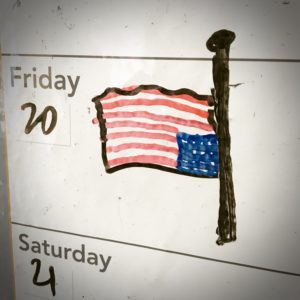 Thanks to the fortuitous location of the annual National LGBTQ Task Force Creating Change conference, I find myself in Philadelphia, birthplace of American democracy, on the day this struggling, noble experiment will take arguably its greatest body blow.
(Last night in a call to my kids I said that today democracy would be developing the biggest zit in its 240-year US history*, and my Know It All Brother-In-Law later quipped that such a statement was an insult to zits world-wide.)
I could go on about how appalling it is that we'll be inaugurating someone so flagrantly derisive or ignorant of so many fundamental elements of our system of government. But by now that would be akin to my pointing out how wet it is in the midst of a monsoon.  That's established; we need no more new evidence; there's nothing further much to add by enumerating Trump's appallingness, again.