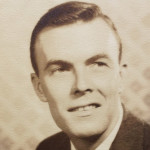 Dad died a week ago today, at 92. What follows is more hagiography than exposé; forgive me. Many factoids are wobbly around the edges. This is just my own vision. If you knew him, you may find much familiar, but I'm sure your mileage will vary. Also many of these are more anecdote than "thing." As a result, this is the longest post I've ever published here, so it's divided into five discrete pages. For the rest of the month, if and when I post,  I may just publish Pops stories from the LD archives. Ninety-two years here, with a generous surplus in the "love" column: it's the least I can do.
92. Dad was born in 1921 in Seattle, Washington to Jessie Harsha and Edwin Pagenhart.  His mother hailed from the Ohio River Valley (her people were Scottish and English), his father from the South Dakota prairie (his people were German immigrants). They each skipped the small towns they grew up in for thrills far afield.
91. His family was in Seattle because his father was captain of the U.S.S. Lydonia, a survey vessel for the U.S. Coast and Geodetic Survey, and he was charting the Alaskan coastline in the region of Ketchikan. Not long after he was born, Dad's family relocated for a short while to Berkeley, about a dozen blocks north from where I live now. Thereafter they returned to Washington, D.C. and Chesapeake Bay, MD, places Dad would as likely consider home as any.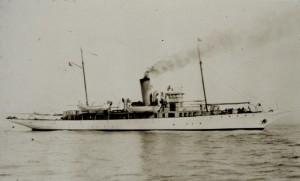 90. Either the greatest number of years or the most memorable ones of his childhood were spent in Manila, where his father directed the mapping of the waterways around the Philippine Islands for the Coast Survey. Here is his earliest memory, as he jotted it down in one of a multitude of unfinished wisps of autobiography:
The only thing I can remember on my own during those Manila days before I was three: looking eye-to-eye into the face of a Filipino girl or boy from the back seat of our car as we passed the big open front window of her house (nipa), must have been stopped for a moment because we looked straight at each other. She was resting on her arms and we only stared in casual close glance about three or four feet from each other as the car moved onward. That's all I recall of my first memory of the living world. But it took place just at the end of Dewey Boulevard [ed note: since renamed Roxas Blvd] as Manila turned into the Filipine suburb of Pasay and the road became dirt instead of pavement… auto traffic continuing south had to make its way along a winding street between houses of Filipine nipa and bamboo construction so it would explain a sudden slowdown in driving, allowing me, held in someone's arms and looking out, to gaze into the calm face of a little girl returning the gaze.
His family returned to D.C. for a number of years, but were back to Manila again in the mid-1930s.
89. He has outlived his younger and his older sister, each of whom were very dear to him, in very different ways. Younger sister first: cancer. Older sister only just last year.
88. Every day when he returned home from his younger sister's bedside during her short, intense cancer decline, he would walk in the door, put down his things, sit down at the piano, and play song after song, as if he were Scheherazade's accompanist, each new tune somehow keeping his sister alive another day. He steadfastly held out for a miracle (literally: a "miracle") up until the 11th hour. "Hope springs eternal" being his operable motto. Duly noting: this was the first family cancer death of three, each as close as possible to him.
Read moreNinety-two things about my dad