Archive | October, 2013
Partly to get that ginormous picture of me in the previous post off the "top of the fold" of this site (gadzooks that's a big picture! even though I hope you locals will spread the word about that event!), partly because I just happened across it again today, and was struck anew at its depth and eloquence, partly because now, nine years later (weeks after my daughter's birthday), I now know every word of my dear old friend's to have been not just brave but prophetic, I share with you my friend's essay, "Extended Family."
I wrote an ode to her here: "Happiness is an old friend."Context: I met Sybil Lockhart,  author of "Extended Family," in September 1980, when we were both fresh-faced, mulletted freshmen in college (okay, maybe it was only me who was mulletted; memory is a tricky thing). She is a neuroscientist (really! a Ph.D.! in neuroscience!) and a very gifted writer. The essay appeared years ago, first at Literary Mama, where she wrote a column and served as book reviews editor.  Later it formed a part of her moving caregiver's memoir, Mother in the Middle.
Two more things to keep in mind, as you read what Sybil wrote. One, the children she speaks of – hers and ours – have now been special cousins to each other for as long as my children can remember, and probably most of what hers can. Sybil's youngest now strolls over to our house once a week after middle school. We're an old, familiar way station-away-from-home, a place to sip a smoothie and do homework (or play with our kids) 'til one or another parent picks her up at the end of the afternoon.  She comes to us now just like her older sister did before her years ago, when she was in middle school, needing a place to come to rest as much as we needed to provide it to her.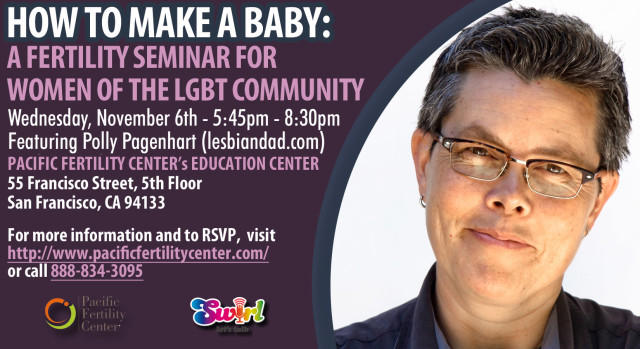 How to Make a Baby: A Fertility Seminar for Women of the LGBT Community is taking place in San Francisco on November 6th. Our host will be  Michelle Meow, Founder and host of Swirl Radio; speakers will be Dr. Isabelle Ryan, fertility specialist at Pacific Fertility Center; Peggy Orlin, MFT, a therapist specializing in infertility, third-party family-building, and adoption; and Deborah Wald, Esq., specialist in parentage, adoption, and assisted reproduction law, and one of the most sought-after and respected LGBT family law experts around. And yrs truly.
If you're a Bay Area gal (or know one) interested in alt. insemination and creative babymaking, please come!
POSTS OF YORE
This tidy page aggregates links to:
the most recent month's posts,
posts parsed by category and, if that weren't enough, also
archives by month back to 2005
Prefer a simple, if at times staggeringly lengthy, chronology? Try this page.
BY WAY OF INSTAGRAM