Tufa Towers, Mono Lake, CA.
Not only wordless, but nearly out-of-this-world Wednesday.
Our original family vacation was to have entailed a trip to queer family camp  in northeastern California (a post in the germination room now), and then a trip thence on to L.A. I say "original" because our girlie took ill for the last half of the queer family camp. We didn't go straight home, hoping that she'd pull off a miracle recovery. To her great disappointment and ours, she did not. Upside, we did take the scenic route home.
When I was trying to make the case to Mrs Dad that we choose our southward-to-L.A. route to the east of the Sierras and see Mono Lake, I said: "The kids have to see Mono Lake! It's incredible! There's nothing like it in the world! It's– it's– it's Pink Floyd album art!"
She thought I was being characteristically overemphatic in my description.
She is also a bit young to have gazed upon the inner sleeve of Wish You Were Here (album art designed by the late Storm Thorgerson). So I had to say, "No. It's actually part of Pink Floyd album art."
Ah, touchable, gazeable album art, yet another thing lost to us in the digital age. Imagine the image below, unfolded on your lap, perhaps bit of the album sleeve poking out of the one side, the album corners worn and bent from frequent use, as you sit in a friend's bean bag chair, his dad out at work (let's say you're playing hooky), the smell of cannabis wafting around the room, the huge speakers shuddering with every lower spectrum note from guitar, bass, drums.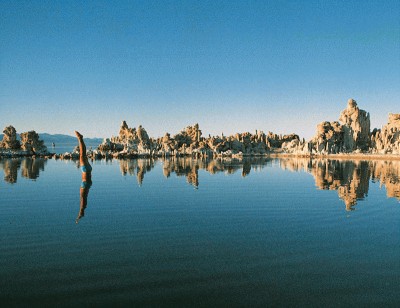 OK maybe that's an easy image for me to conjure because that describes a goodly amount of my seventh grade year. Said friend going on to become a pro rock n' roll drummer who even has his own Wikipedia page, thus proving that idle hours such as this can actually lead to gainful employment.
I like "Shine on You Crazy Diamond" best on that album, even though "Wish You Were Here" may be more popular.  So, here you go, all 17 and a half minutes of it. Hope your dad doesn't come home before you air out the house.