During the 2008 election season, this LD page became a compendium of links and resources related to the California marriage equality battle, and my "coverage" of it on this blog. About which, much below. First, though, two asides on nomenclature and political priorities.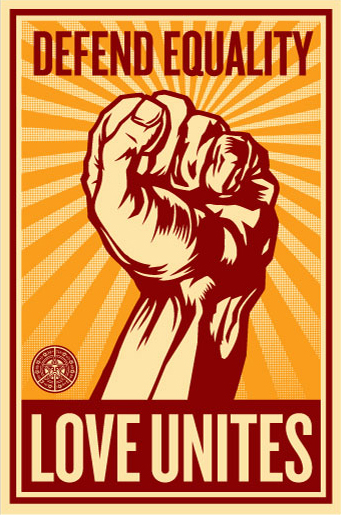 On nomenclature &Â political priorities: From the LD home page, I link to this page under the column heading the "LGBT civil rights." For the most part, the issues I've been tracking most closely have stemmed from the recent marriage equality battles.
I freely grant that marriage equality is a mere slice of the larger LGBT fight for equal legal rights and recognitions, and maybe not even the battle we ought to fight first.
Certainly, adding "sexual orientation" the Civil Rights Act of 1964 would take care of a great deal (sez me, the non-legal scholar). But until that's deemed politically practical or feasible, folks work to gain ground with other, piecemeal legislation.
Passage of the Employment Non-Discrimination Act and the repeal of the military's Don't Ask Don't Tell policy, to take two prominent national-level fights, have long been high priorities, along with the reform of anti-gay adoption and immigration laws.
For better and for worse, marriage and partner recognition has become a very visible lightening rod right now. And as a parent in a state currently aflame over the issue of LGBT family recognition, the marriage equality issue has been the one to occupy most of my civilian writerly attention here at this blog.
Fortunately, momentum is building for a movement that demands  broad-scale, full equality at the federal level in all areas of the law, with no equivocation or delay. [See: The Dallas Principles, the National March on Washington.]
I updated this page following the election as well as during the pre-supreme court ruling stasis, and continue to amend and update it on an ongoing basis and am keeping it here for quasi-archival purposes.
An archive of election-related news links, which I'd run on the LD home page through election season and beyond, can be found here.
What you'll find below :
• What was Proposition 8?
• Information on the issues and current campaigns
• Folks who helped raise money through this blog
• Other fund- and consciousness-raising campaigns of note
• An arrangement of LD posts on the topic of marriage equality
What was Proposition 8?
This page on Wikipedia, Proposition 8, explains as well as any:
[Proposition 8] was a California State ballot proposition that amended the state Constitution to restrict the definition of marriage to a union between a man and a woman. It overrode a recent California Supreme Court decision that had recognized same-sex marriage in California as a fundamental right by overturning the California Defense of Marriage Act. The official ballot title language for Proposition 8 was "Eliminates Right of Same-Sex Couples to Marry." The entirety of the text to be added to the constitution is: "Only marriage between a man and a woman is valid or recognized in California."
The measure was voted on in November 2008, and passed 52% to 48%, a significantly smaller margin than that of the most recent anti-gay marriage proposition in the state, Prop 22. Â Prop 22, which the CA Supreme Court found unconstitutional in May 2008 (thus triggering the proposition to override it with a popular vote), was voted on in 2000, and passed 61% to 38%.
Here's a fascinating, interactive L.A. Times map of election results broken down county-by-county, with nine different filters for things like race, income level, levels of education, and veteran status.
The day after the election, suits were filed challenging the validity of the proposition on numerous grounds. The California Supreme Court moved to hear three of the suits together under the umbrella Strauss v. Horton. Â Dozens upon dozens of amici were filed in support of the suits by civil rights, legal, educational, and religious organizations. The Supreme Court heard oral arguments on March 5, 2009, and issued its findings on the third to the last day it could have done so, May 26, 2009. Â In what many consider a tangled, self-contradictory ruling, six judges, with one — Justice Moreno — dissenting, upheld the proposition but also recognized as legal those same-sex marriages that took place between their initial decision and the election.
So California — at least until the next revision of its constitution — now recognizes three discrete types of citizens: (1) heterosexuals, who have full marriage rights; (2) same-sex couples with legally recognized marriages, because they married during the six months after which the state supreme court declared this a constitutionally protected right, and before a simple majority of voters revoked that right, and (3) all other same-sex partners, who are prohibited from legally marrying and permitted only to form "domestic partnerships," a separate, putatively equal institution which has already been found elsewhere to merely codify discrimination and second-class status.
The fight continues, big time.
Information on the issues & current campaigns
Here are a few sources I think are useful. Â This isn't exhaustive by any means, but it'll get you headed in the right directions.
Background info
The organization Freedom to Marry has been working on the issue a long while, and has a phenomenally comprehensive series of pages to help anyone Get Informed. Its dozens of sub-pages are grouped into sections like Start Here: The Marriage Basics, Landscape, Communities, Multimedia, Blogosphere, Humor, and Maps.
The National Gay and Lesbian Task Force has a long history of grassroots, progressive activism on a wide spectrum of  issues affecting LGBT people. Their Marriage/Partner Recognition page links to NGLTF studies, maps, press releases, campaigns, and allied organizations.
Marriage Equality Wiki
The Marriage Equality resources wiki is currently one of the most comprehensive community-authored sites for ongoing info about the marriage equality movement. It provides the latest News, Action, Legal, Media, and Support info.
The Marriage Equality wiki's Action lists current and retired campaigns, including upcoming Events.
Consciousness-raising, social change, and educational campaigns
Other sources of info on what's going on and coming up:
Folks who helped raise money through this blog
Hundreds of people helped raise money to fight Proposition 8 by donating via the ActBlue fundraising page I established about two months before the election. In "Honor roll," a post following the November 2008 election, I gave thanks to them, listing their first names, occupations, and home towns, so we could all see how many different sorts of people, from how far and wide, helped out in this way. Three Canadians even sent me money via PayPal as very generous wedding gifts. Â To no one's surprise, I plowed that directly into No on 8 donations.
A phalanx of blogger support
Thirty-five bloggers, both friends and allies, helped raise awareness and funds for the No on 8 battle by writing a post and linking to the LD fundraising thermometer in it (shown at right), and/or simply by including the thermometer and its link as a feature on their sidebar throughout the campaign.
In this way, a small portion of the web-based community spread the word and stretched the impact just a little bit more. Â Read what they wrote, please, and give them some more thanks for their solidarity.
By the way, if you know of a No on 8 post you think I've missed and ought to include here, do tell.
Upon his urging, the following folks stole and reposted Looky, Daddy's"Because Everyone Should Have the Right…" post, along with (most of them) a link to No on 8 fundraising thermometer:
Other fund- and consciousness-raising campaigns of note
Many, many fundraising and consciousness-raising campaigns were waged by ad-hoc groups of citizens, above and beyond the work done by the primary organizations campaigning against the initiative (such as No on Prop 8 (Equality for All), Equality California, Human Rights Campaign, National Gay/ Lesbian Task Force, the ACLU, And Marriage for All, Marriage Equality USA, and more). Â Below are just two internet-based campaigns launched by confreres in the lesbian blogosphere.
8 Against 8
A bunch of bloggers, ringled by Grace Chu, organized and set out to raise $8,000 in 8 days. Â They quickly met and exceeded their goal, and went on to raise a total of over $13,000. Â Here they are below:
Grace Chu and Grace Rosen – Grace The Spot
Lori Hahn – Hahn At Home
Kelly Leszczynski – The Lesbian Lifestyle
Dorothy Snarker – Dorothy Surrenders
Pam Spaulding – Pam's House Blend
Sinclair – Sugarbutch Chronicles
Riese – This Girl Called Automatic Win
Renee Gannon – Lesbiatopia
Write to Marry Blog Carnival
On October 29, 2008, Dana Rudulph of Mombianand Mike Rogers of PageOneQorganized bloggers across the country and internationally in Write to Marry Day, blogging in support of marriage for same-sex couples and against California's Prop 8.
An arrangement of LD posts on the topic of marriage equality
Pretty much from the moment we began to find out that paid signature-gatherers were out trying to get an anti-gay marriage amendment on the ballot (in anticipation of the then-upcoming Supreme Court ruling), I began to write directly on the topic of marriage equality. Â All these posts are grouped under the blog category On Marriage and commitment (the list you'll find in that link includes all seventy-odd posts, in reverse chronological order, with most recent posts first).
I began trying to describe what the issues felt like to someone like me, who'd been "out" for decades, and ambivalent about the institution of marriage, but beginning to think differently in the wake of parenthood.
As stakes became clearer, and the debate over the issue heated up, and most especially in the final months of the election campaign, I tried really hard, with practically every post, to generate concrete arguments or persuasive anecdotal material that interested readers might send to fence-sitting friends, family, and co-workers.
At first I listed a few posts here, the ones I thought might be most effective for people to forward on to others, if they thought it might help. Â Since the election, I've added a bunch more, Â twenty-six in all. Â Three quarters written before the election, and the last quarter a post-election coda. Â (I've made them more navigable as a group by providing a link at the bottom of each to the next one in this series.) Â It's a lot to read, but I wanted to convey the essence of the whole tempest-toss'd narrative arc, beginning days after same-sex marriages began in California, coming to a head on election day, the last day they could be performed. Â As we know, the story of the aftermath is still being written.
The story of my beloved's and my courtship and commitment ceremony, by way of introduction to the complex feelings the marriage equality ruling stirs up.

June 19, 2008

Our trip to city hall to get our marriage license. Â 

June 20, 2008

The mixed blessing of acceptance and tolerance.

June 27, 2008

All About Eve provides a reasonable analogy for the late-in-life marriage of older gay couples.

July 11, 2008

Notice of a Prop 8 fundraiser, plus a reminder of the costs of homophobically-controlled hospital access.

August 22, 2008

Sounding the alarm; prognosis: grave. Â Fundraising launched. Â 

September 11, 2008.

He's old enough to know better.

September 16, 2008

A bunch of young people show the true plight of being kids of LGBT parents. 

September 19, 2008

Made in September 2007, and relevant as if it happened yesterday.

September 23, 2008

The anniversary of Matthew Shepard's attack provides a somber occasion for reflection on the logical extreme of homophobia.

October 7, 2008

A letter from my sister to a fence-sitting friend: why it matters to our whole families.

October 15, 2008

My sister — who knows from spirit-challenging battles — and a friend both offer some big-picture advice. Â 

October 16, 2008

How this battle strikes at the tenderest LGBT parental soft spot: the desire to cheat homophobia, and fast-track our kids to a world in which they don't feel the sting we dread is waiting for them.

October 23, 2008.

A week away from the election, and in an increasingly vitriolic street battle, my post for Write to Marry Day: an attempt to convey what's at stake, and why.

October 29, 2008

Shared strategy from the election day get-out-the-vote training, and a mini-paean to the democratic process.

November 1, 2008

My 87 year-old dad's report on his No on 8 streetcorner visibility stint.

November 2, 2008

My report on my No on 8 11th hour leafletting experience in downtown San Francisco. Â 

November 3, 200

8

An attempt to chart a path for the spirit, whither the day's outcome. Â 

November 4, 2008

What I did and felt on November 4, 2008. Â 

November 11, 2008



A conversation with a friend illuminates the complex mixture of Obama joy and Prop 8 pain swirling around after the election. Â 

December 4, 2008




A conversation with a stranger illuminates the possibilities of trust and connection, still possible after the election.

December 24, 2008



A series for Robin Reagler's Freedom to Marry Week blog carnival, What About Love. Â Works a bit like a retrospective on the battle, its effects, and its immediate aftermath.

February 10-16, 2008.
page last updated: 012.14.10