les•bi•an dad n, neologism 1. a. A lesbian or genderqueer parent who feels that traditionally female titles (i.e., "mother") don't quite fit, and who is willing to appropriate and redefine existing male ones (i.e., "father"): She was a tomboy when she was a kid, so it's not surprising she's a lesbian dad as a parent. b. Often a non-biological parent in a lesbian family, and/or one whose role relative to the child in many ways resembles that of fathers.
A bit about this blog.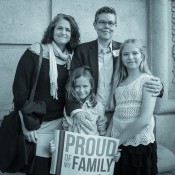 LesbianDad is a personal essay/photography blog about parenthood generally, and lesbian parenthood in particular, with especial attention to the experiences of non-birth and genderqueer or butch mums and the many larger questions our unique kind of parenthood opens up. I expect that my own family experiences reflect those of many others; if they don't, I hope they expand your understanding of family, LGBTQ or otherwise.
In the interest of being helpful, long ago I started a Glossary; some of the entries there may help clarify some facets of queer parenthood for the uninitiated. Over the course of the many years I've been publishing this thing, I'm happy to say that the need to provide explanatory backstory has shrunken considerably. All hail social and cultural change for the better.
Note that I subscribe to the Walt Whitman school of writing process, rather than Gertrude Stein's. Walt tinkered with what he wrote over and over, past its first and second and umpteen print publications. Gertrude thought: first draft best draft. I will say that whatever ripples of change appear in a piece, subsequent to its first posting, are usually along stylistic and le mot juste lines — not substantive ones. I usually leave well enough alone after 24 hours. But now we're all forewarned.
I did a post about the genesis and development of this blog and how I write it here: The political is personal.   I did a post of loose notes about how I photograph my kids here: Feeds self yogurt, effortlessly.  Writer Abby Dorsey profiled lesbian fatherhood in general, including mine in particular, in an April 2013 piece in The Advocate (print and online editions): "The New Lesbian Dad."
Also, after about eight years I left this blog fallow for a bit, as I acclimated to life without my dad and with my current job.  It's up and running again, but on a bit more of a "slow blog" publishing schedule. Sustainability for the win!
A bit about this blog's reception.
Since this little craft launched in 2006, Lesbian Dad has collected a few nods of recognition which, in a fit of humility, I demoted from home page button (people used to do that in the early bloggy days!) to modest About page list:
The most valuable award, of course, is that of your attention, right here, right now. So thank you, gentle reader.
A bit about who writes it.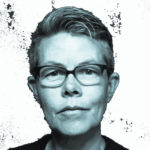 I come by my parenting chops by virtue of a daughter (since September 2004) and a son (since January 2007), both carried and birthed by my beloved.  Our donor is what you call "personally known" (and also loved). I come by most of the rest of what goes into this blog by virtue of some book-learning (BA: Berkeley, English; MA: Minnesota, American Studies & Feminist Studies), some teaching at both universities (American Studies, Women's Studies, Composition, Pedagogy), and a few decades of activism in between.
I've written about my parenting journey elsewhere in print,  at BlogHer as a Contributing Editor in Parenting and Family topics and as Conference Programming Director, and at VillageQ as co-founder and onetime Editor-in-Chief.  I've talked about LGBTQ and "alternative" families online, at social media conferences like Mom 2.0, Dad 2.0, and BlogHer, and at local universities.  Now I have the honor of working for Bay Area LGBTQ families as Director of Family Programs alongside the many fine people at Our Family Coalition. All text and imagery published here are my own and are not intended to represent those of my employer. More all-purpose caveats here.
Let's talk.
If you're interested, please write me via this blog's contact page, but please be patient about the response time: I'm a full-time working parent who prioritizes parenting and work. To keep this space quaintly civil, I have ask folks to register to comment. That said, I'm proud to say that since the inception of this thing, I've never had a belligerent or bellicose comment only received and chose not to publish one comment, and for what it's worth, it wasn't homophobic, it was Islamophobic, and off-topic.  A single sour comment in well over 5,000 gives one some faith in human nature.  That, or it's instructive of the editorial impact of the loss of anonymity.  Either way, thank you for reading.
page last updated: 1.20.16